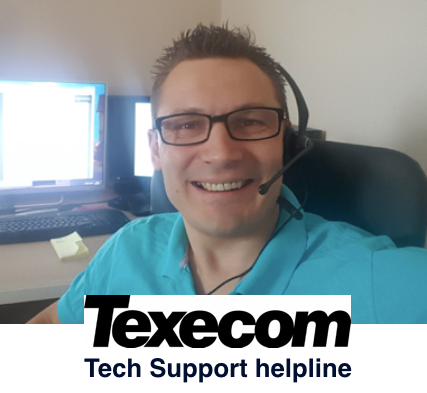 20min Telephone Texecom Support - help fixing Veritas or Premier alarm problems
£29.00

£29.00

inc VAT

Save £6
( £24.17 ex VAT )
---
In Stock
---
20 minutes of telephone-based technical support to help you solve problems with your Texecom alarm system (Veritas or Premier).
This is not an out-of-hours emergency service, it's an 'appointment-based service', and once you've paid we'll arrange a mutually suitable time to run through your technical questions and get you sorted!  Appointment times are booked from 9 to 5 during weekdays. 
This Texecom Technical Support Helpline is led by our in-house security technology expert Marian, who's spent the last 10+ years working in the field as an alarm engineer - specialising in Texecom equipment.  Examples of things our Texecom helpline can help you with include:
Alarm system support - Texecom Premier Elite and Veritas alarms
Trouble-shooting - fixing existing security equipment with issues/faults
Programming issues - including using Wintex and Connect App / SmartCom
Fault-finding - identifying the cause of issues and helping fix faults (including Ricochet wireless problems)
Simple to complex - help talk through simple problems like alarm battery faults and false alarms, through to complex things like programming a Premier.
Buy Now & help fix your problem
Stan is available via telephone to help remotely set up any equipment or deal with any technical troubleshooting problems you may have.
Set up a call with him now for a bargain £29 (usually £35)- compared to the cost of booking a call-out.
Alternatively, if you want you can book an 'on-site engineer visit', involving an engineer coming out and visiting you - which costs £89.  Book visit here >> 
N.B. we'll refund your £29 if you subsequently need to book an onsite call out from us.  We're nice like that!
Simply add to the cart below & check out / pay, and we'll email you back immediately to book your call & help fix your Texecom alarm.
*Provide your valid telephone number at the checkout* 
---